Bulk Email Software VS Web-based compared savings
Let's analyze when using a bulk email software (that can be installed on a pc) is more convenient than subscibing to online web-services: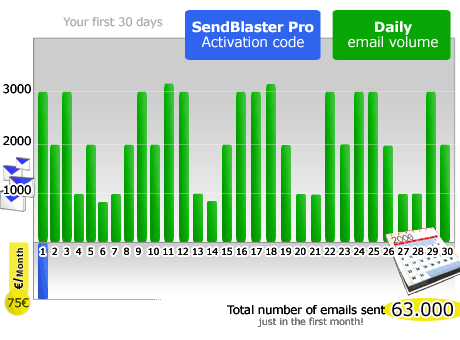 Comparison of emails sent using the bulk emailer PRO version
In this chart you can see an example of the first month costs compared with the initial pro license activation code. In the next months you will never need to pay. The Pro Activation code license is lifetime.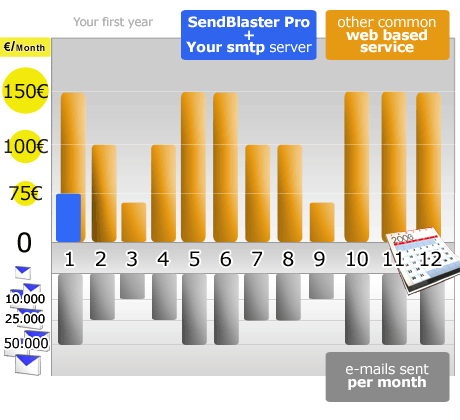 Price comparison for the first year: about 75€ with bulk email software instead of 1300€ using a web service
This chart is an example of comparation between a single pc sending email using SendBlaster Pro and the same amount of email send with a common web-based bulk email service. As you can see the total cost of your email marketing campaigns at the end of the year using SendBlaster is very cheap. This is possible because you will use you internet service provider's smtp service to send every email. Since every ISP has different performances, we offer a Pro smtp service too, shown in the chart below.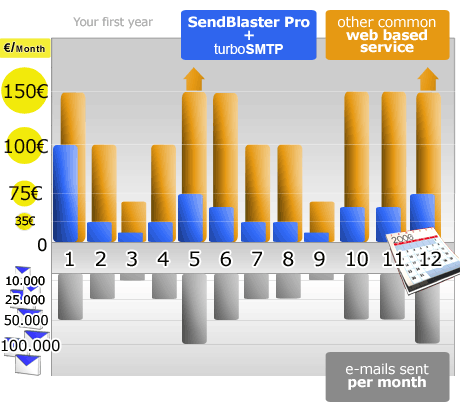 First year prices comparison about 500.000 email sent in the first year: Pro bulk emailer + turboSMTP (about 500 Euros) compared with web services (about 1400 Euros)
This is the maximum performance graph compared savings. As you can see, the monthy cost between our service and the other web based services is very different. This economic spread is due to the different nature of desktop software (SendBlaster) and the common web-based services. With desktop softwares we can minimize management costs and we can give you a very cheap bulk email software solution for email campaigns.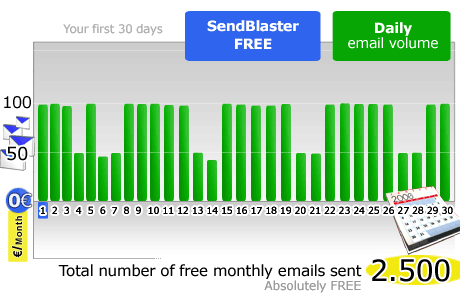 Example of absolutely free bulk emailing
This is an example of the number of emails that you can send absolutely free, using the SendBlaster bulk email software free version to send bulk emails.
Get it now! Free bulk emailer download